CUSTOM VINYL DIGITAL GRAPHICS, TRADE SHOW & GRAND OPENING BANNERS, STICKERS & MORE!!
Category: Home > Countries > California > Paradise


PARADISE CALIFORNIA CORNHOLE BOARDS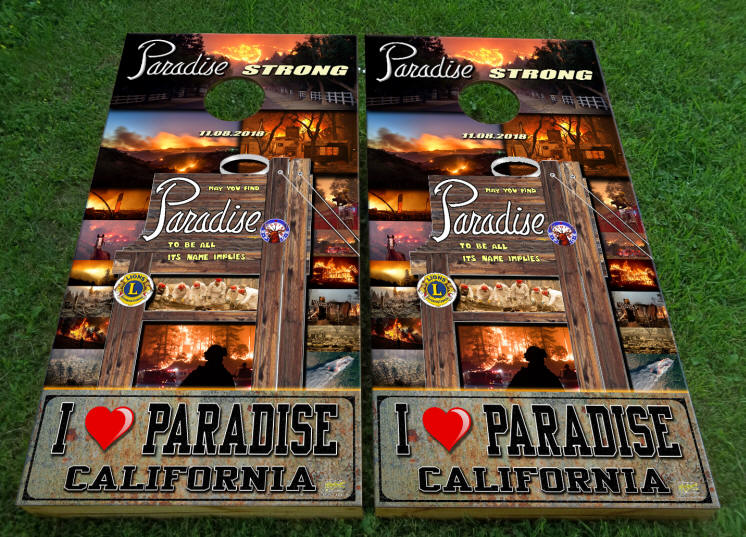 Paradise Cornhole Board Set with Bags.
Full Purchase
24 Wide x 48 Tall
Cost: $250.00 + Shipping
Code: CHB-1040


Proceeds of the stickers below are also donated.
Paradise California
Size: 6.7 x 4.5 Oval
Code: PCA-1001
Paradise California
Size: 6.7 x 4.5 Oval
Code: PCA-1002
Paradise California
Size: 6.7 x 4.5 Oval
Code: PCA-1003
Paradise California
Size: 6.7 x 4.5 Oval
Code: PCA-1004
Paradise California
Size: 6.7 x 4.5 Oval
Code: PCA-1005
Paradise California
Size: 6.7 x 4.5 Oval
Code: PCA-1006
Paradise California
Size: 6.7 x 4.5 Oval
Code: PCA-1007
Paradise California
Size: 6.7 x 4.5 Oval
Code: PCA-1008
Paradise California
Size: 6.7 x 4.5 Oval
Code: PCA-1009
Paradise California
Size: 6.7 x 4.5 Oval
Code: PCA-1010
Paradise California
Size: 6.7 x 4.5 Oval
Code: PCA-1011
Paradise California
Size: 6.7 x 4.5 Oval
Code: PCA-1012
Butte County, California
Size: 6.7 x 4.5 Oval
Code: PCA-1013
MikeStickers.com is donating all proceeds to the victims of the Camp Fire, fires in Butte County, CA. 11/08/2018

Web design and hosting Powered by Lawrence Park Place. 2021ęcopyright mikestickers.com All rights reserved. Links